After cooking for a million years and reading a million recipes, here's my Thanksgiving mashed potato recipe that never fails to delight.
Assemble:
Salt
big stockpot
sack of Yukon Gold potatoes
butter
cream
optional: cream cheese or sour cream
fresh nutmeg
Peel, cut up, and soak potatoes in salt water for a half hour.
Rise twice.
Boil potatoes in more salty water for a half hour. Heat up cream.
Drain, don't rinse, and put the potatoes back on low heat. Mash in a stick or so of cold butter. Add in the sour cream or cream cheese, if you're using that. Add in slowly the hot cream. If you like chives or something similar, add that in last. Keep the heat even, and don't overmash. 
Season with a bit of freshly-grated nutmeg, pepper, salt.
BONUS:
GOOD GRAVY gravy!
Butter and Wondra flour in a big pan until it's a blonde roux.
Add in: turkey/chicken/roast beef drippings, properly strained. You can also add in stock, wine, or water, and let it get to gravy thickness. Pepper, salt - but taste it first if you use drippings or salted butter, it might be saltier than you think. A dash of cream at the end. 
As your resident barkeep, I know that you, my darlin' hearts, are great customers. But just in case, here are a few simple words of advice from the other side of the dram that might help y'all.
Say hello when you walk in. Want to chat? That's great! I work here because I love chitchat. But please know: we've got stuff to do back here. Motion makes mojo, and only 10% of our job is making your drinks. Please wait your turn once you've been acknowledged. Do not, under any circumstances that aren't life-or-death, do the following: snap your fingers at me, wave dollar bills, roll your eyes and sigh heavily as though all your dreams have died. 
Know what you want to order? Awesome - you're now my favorite patron. Don't know? Ask. I can often steer you to something new, or at least help this from becoming an "um…ahhh…." situation. 
Don't be The Problem. I have approximately a jillion stories about The Problem, most of which revolve around: a shopworn sense of relative hotness, a lack of general manners, an inability to apologize, or all of the above. Look around, and if you don't know who The Problem is, it might just be you. (Bylaw: Quality Regulars have a The Problem pass once in a great while. If you are unsure of your status as Quality Regular, please re-read this paragraph.)
If something is wrong in my bar, let me know so's I can handle it. Fights, broken toilets, lost ID, bad service from a previous night? Please, give me a heads up and I will move heaven and earth to fix it. Likewise: something going well? Let me know! We live for compliments. (Also, you look amazing, have you lost weight?)
Hungry? Ask me. I know what's good. If you don't want what we're serving, I'll know where/what is open that you'll like. 
The bartender is not going to go out with you. We are all taken. Unless we aren't, in which case, you'll know. Want to date one of my staff? Don't ask me about their date-ability, because I will either not know or I will lie my head off, depending.
Our weekends are not your weekends. Post-shift, we need to vent our spleen, eat, drink, laugh, and sleep for 12 hours. It's the only cure.
For friends throwing parties: we will always bring something good to eat or drink.  To our credit, we will, to a man, make you a fabulous brunch if you want us to. It'll just likely be at 1:30 on a Monday afternoon. But please don't ask us to make drinks or cook at your party every time we come over, unless we offer or you're paying us.
Just the tips. We usually make anywhere from $2-$5 an hour, with no benefits. A good guiding principle is at least $1 a drink.
Change is not money. Especially pennies. 
Do you work in the service industry? I can usually tell, but feel free to tell me, so that I can feel free to grill you about what's going down in your neck of the woods. 
Related: lagniappe/buy-back/free things means we like you and want you to stay a bit longer.
God, this could all be summed up as: be nice and tip in cash.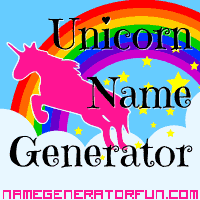 Rose is wistful and creative.
She is a delight to be around,
and she casts mischievous spells.
Get your own unicorn name from the unicorn name generator!
"Kids are mean and it's because they're trying it out. They look at a kid and they go, you're fat. Then they see the kid's face scrunch up and say ooh, that doesn't feel good. But when they write they're fat, they go, hmm, that was fun."
—
I agree, but I disagree, too. A lot of people who grew up without mobile devices don't have a trace of empathy, and some of the most empathetic people I know are kids who've grown up with screens all around. 
But anything elevating Louis to the philosopher level is okay by me, since that's where his comedy really fits. If you read it flat, without his verbal timing and sweaty tics, it's his sincerity that gets you, like all of the greats.